---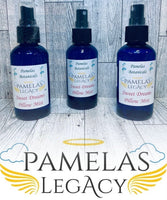 Sale
Sweet Dreams Pillow Mist- NEED EXTRA EXTRA help falling asleep???? Then try this my mom Pamela smith swore by this product and she used it every night faithfully she says that she has never slept through the night until she used my spray. Pictures of testimony to prove!
BUT!!!! When sprayed In the air it's amazing as a room deodorizer and freshener!


ALSO amazing as a body spray when misted in the air and walked into can be used as a anti anxiety body spray and great for mellowing out those high anxious moods! 
Sweet Dreams- Need Help falling asleep?? Here's A SECRET I shared with my mom while she was here she swore by this recipe she said that it gave her the best night sleeps she's EVER has Had. This blend really is made to help you fall asleep easy and not toss and turn all night.
Ingredients: Lavender, Vetiver, Frankincense, ylang ylang, Orange, Vitamin E, Coconut oil, Witch Hazel, purified water.