---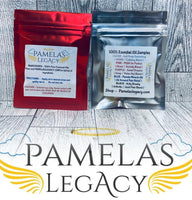 This is a sample set of 5 essential oil blends I handmade and Homemade. They are amazing for all sorts of issues and problems. For example miracle oil can be used for moisturizing eczema spots but doubles over for pain and it's an anti inflammatory so amazing medicinal properties! 
💯 pure essential oils 
made with avocado as a carrier oil
can be made hemp or non hemp ALL come standard NON hemp! 


Blends in set: psssh I'm perfect, sweet dreams, miracle oil, achy breaky body, just keep swimming!