---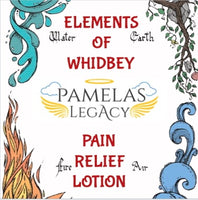 Elements of Whidbey is a UNIQUE blended lotion, great for arthritis and joint pain also amazing for swelling and migraines. has an amazing breathe taking cooling sensation to follow application and has a very masculine early woods smokey smell. It leaves you feeling like you just experienced every element Whidbey island (home to mama shark aka Melinda and Pamelas legacy) has to offer. 
Ingredients: Soothing Shea Butter Lotion Base, Shea Butter, Vitamin E, Aloe, Avocado oil, Achy breaky oil blend ( Clove, Peppermint, Ginger, Frakincense, St John worts, muscle restore, fragrance oils: Black Sea, Whiskey, Lavender Embers.
comes in 4 oz bottles.