---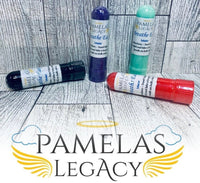 Breathe easy inhaler- ALL NATURAL!! Use for releif from sinus issues such as infection and stuffy. Have a cold use it! Have allergies? Use it!
Morning sickness??? Then here you go! this is amazing for that!
feel nauseous/ queezy/ dizzy/ headache this is for you! this relieves the symptoms from these issues.
Have ashtma? Need to open your airways?!? This is for you!!!
have a hang over? this is a best friend when u have a hangover! 
Breathe Easy- This blend is made to help relieve cold symptoms such as stuffy clogged nose, if you're having coughing or sinus issues and just plum feel icky… then just use this blend under your nose and you will start to feel relief shortly. (INHALER) Just insert into one nostril and softly inhale repeat on second nostril.
Ingredients: Eucalyptus, peppermint, Australian tea tree, pine needle, lemon oil cold pressed, cardamom, Bay Laurel leaf, coconut oil, avocado oil.